I have to begin by saying that if you aren't following Liz from Hoosier Homemade than you are missing out! I have been a follower for a while now and I gain a virtual 10lbs everyday when I read her email newsletter :) Today's was this recipe and it looked so delicous that I had to share it with all of you! Thank you Liz for all the great recipes and advise you share!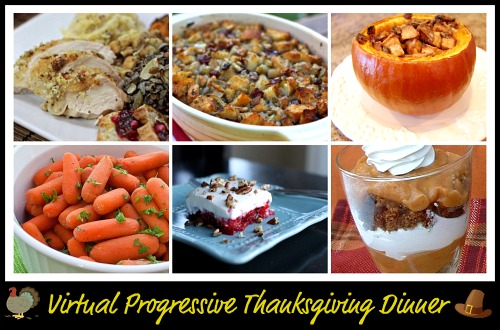 We have had a very delicious week with the
Virtual Progressive Thanksgiving Dinner
! The food has been amazing, it's really put me in the mood for
Thanksgiving
! I can hardly wait to try these recipes!!
We started the week with Shaina's
Mustard-Crusted Turkey
and Aimee's
Fruit and Herb Stuffing
. Adding her
Apples and Cranberries
baked in the Pumpkin was Tiffany and then Laura shared how her
Slow Cooker
saves her time on busy holidays, with her
Mashed Potatoes and Baby Carrots
. Tara's delicious
Cranberry Salad
was added to the table next and to round out our meal…
Pumpkin

Gingerbread

Trifle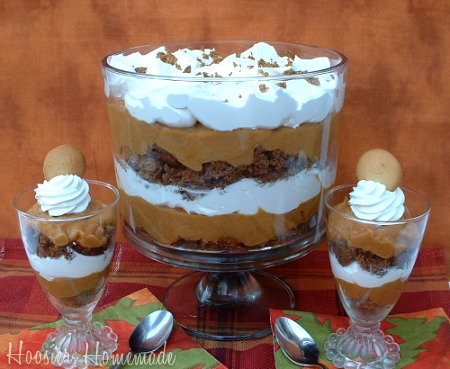 I am a BIG fan of
Trifles
, they are quick and easy, don't cost a lot to make, you can make them ahead and oh! we can't forget! they look impressive too!
Pumpkin Gingerbread

Trifle Recipe

:
1 box Gingerbread Cake Mix and the ingredients to make it (egg and water)
4 cups cold milk
2 boxes (small) butterscotch pudding (instant or cooked)
1 can (15 oz) pumpkin (not

pumpkin pie

filling)
1 teaspoon cinnamon
1/4 teaspoon each of ground ginger, nutmeg and allspice (I used Pumpkin Pie Spice instead, about 1 teaspoon)
1-2 containers of

Cool Whip

(depending on how much you add)
Directions:
Bake the Gingerbread cake according to the directions on the box and cool completely.
Mix milk and pudding according to the directions on the box and place in fridge for 5 minutes. Stir in pumpkin and spices.
In a large
trifle bowl
, beginning with the cake, break off small pieces of the cake and line the bottom of the bowl. Then add the pumpkin mixture, followed by a layer of Cool Whip. Repeat layers.
Top with Cool Whip and sprinkle with cake crumbs or add a
Vanilla Wafer
or
Gingersnap
cookie for decoration.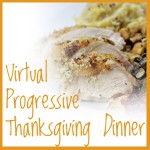 One of the best things about
Thanksgiving
is the food and sharing! Let's share our food…add your recipe so we can all enjoy! The linky will stay open until after Thanksgiving, so come back often to check out what has been added!

Follow me on Twitter